Creating a Green Campus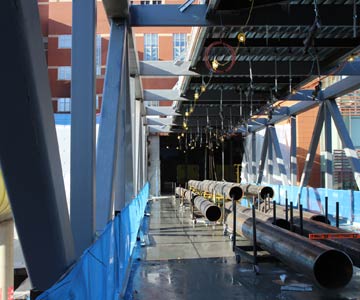 When Boston Medical Center launched a $350 million campus modernization in 2012 – now nearing completion in fall 2018 - energy efficiency and greenhouse gas emissions reduction were cornerstones of our plan.
BMC is on target to reduce emissions 50 percent through the campus consolidation, including upgrades to heating, cooling and ventilation systems, energy efficient lighting, a new biogester to compost food waste, and other improvements. Combined with other efforts, including an innovative solar energy partnership and the installation of a combined heat and power plant on the Yawkey roof, BMC is expected to be carbon neutral by 2020.
The campus redesign presented a unique opportunity to become more energy efficient and sustainable. The hospital is renovating over 500,000 square feet of existing hospital space and building 130,000 square feet of new clinical space. By consolidating clinical functions in a more efficient design, BMC is reducing its footprint by 400,000 square feet while supporting a patient volume growth of 20 percent.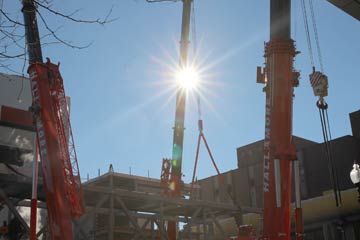 BMC has partnered with Eversource, a proud sponsor of Mass Save, on more than 30 energy efficiency projects in the past several years. Working together we have developed a long-term energy strategy, achieving more than 20 million kilowatt hours in annual energy savings to date.
BMC has reduced its utility bill from $17.2 million in 2011 to a budget of under $10 million in 2019, money that is put back into patient care.