Please visit Boston University School of Medicine's Amyloidosis Center website for more information about the different types, the patient evaluation process, and consultation services.
Boston Medical Center is an international referral center for the diagnosis and treatment of amyloidosis, a rare group of diseases caused by the abnormal accumulation of the protein amyloid in various parts of the body. This can occur as part of a bone marrow plasma cell disorder (AL), as a hereditary form (AF), an age-related form (senile systemic amyloidosis due to ATTR), or secondary to chronic inflammatory or infectious diseases (AA).
The Amyloidosis Center at BMC offers a multi-disciplinary approach to diagnosis and treatment of this multi-organ disorder. Under the direction of Vaishali Sanchorawala, MD, the Center is unique in its approach, providing exceptional care for patients with all forms of systemic and localized amyloidosis through the support of laboratory and clinical research.
Specialists in hematology-oncology, cardiology, pulmonary medicine, renal medicine, gastroenterology, neurology, otolaryngology, pathology and laboratory medicine, urology, and radiation oncology coordinate to evaluate patients and develop care plans.
The disease frequently involves more than one organ system. For this reason, Boston Medical Center offers a multispecialty evaluation for patients. This is a three day, outpatient evaluation comprised of a number of tests and consultations which will help determine the amyloid type and organ system involvement. Patients are guided through each step of the evaluation, with doctors and nurses explaining why each test is being done and what the results mean.
Once the evaluation is complete, a treatment plan is developed.
Medical and pathological consultation services are also available to patients and doctors.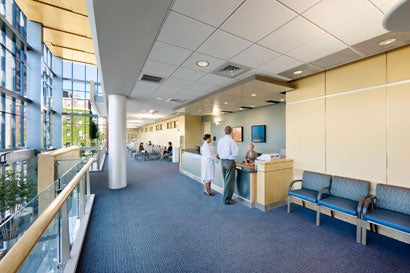 Address
830 Harrison Avenue
Boston, MA 02118
Moakley Building
3rd Floor
Hours
Monday-Friday - 8:00 AM - 5:00 PM