The Pulmonary and Allergy Clinic provides allergy, asthma, and respiratory care to children from birth to age 21. The clinic staff work as a team with a patient's primary care provider, daycare, school, or after school program. The Clinic's goal is to create a treatment plan that addresses the child's health need for:
Asthma and other lung disorders
Food and drug allergies
Hay fever (allergic rhinitis and conjunctivitis)
Obstructive sleep apnea
Sinusitis
Skin rash (eczema, hives)
Stinging insect allergies
When a patient first visits the Pulmonary and Allergy Clinic, a detailed medical history will be recorded and a physical examination will take place. Then, if necessary, diagnostic testing will be ordered and can include breathing tests, exercise challenges, and skin tests.
Breathing tests are important because measuring pulmonary function allows the doctor to accurately diagnosis a child and then monitor the effect of medications given. Typically, children 5 and up are able to do breathing tests. Exercise challenge tests assess exercise-induced bronchospasm, while for children with chronic lung disease, a six-minute walk test can detect progression over time.
When allergies are suspected, skin tests help define specific sensitivities and to guide counseling for preventing them. Clinic staff devote special attention to educating patients and families about non-medicated steps to control a child's allergic condition, such as avoidance and use of tools in the home ranging from bed encasings to air purifiers.
In addition to testing and treatment, the Clinic also provides a number of services and programs to help children stay well. These include:
Pulmonary and Allergy Clinic Services
Home allergy inspections
Housing information
Home allergy control
Home peak flow checks
Interpreter services
Help with medicine and supplies
Allergy and Asthma Programs
Swimming, asthma education, and tutoring provided by Harvard University volunteers for kids with asthma ages 10 – 12.
Legal assistance regarding entitlements and housing issues related to allergies, and to asthma.
The Kids Fund generously provides necessary asthma care equipment to families in need.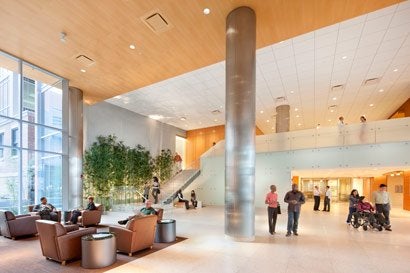 Address
725 Albany Street
Boston, MA 02118
Shapiro Center
8th Floor
Hours
Monday, Wednesday, Friday 8:00 AM - 5:30 PM
Tuesday, Thursday - 8:00 AM - 8:00 PM