The Center for Voice and Swallowing offers a wide range of services and specialty care for adults and feeding therapy for children. We team up with many disciplines to make sure we are providing a team-based approach to giving you the best treatment possible. Our goal is to deliver high quality care to all of our patients.
Our team of Speech Language Pathologists are trained as specialists in many areas. We treat voice, swallowing, breathing, language, speech problems, and many other issues related to Speech Language Pathology. We can provide services at many different levels of care, ranging from acute problems (for those who need to be seen during an inpatient stay) to ongoing, chronic problems (for those who can be seen in our clinic). Based on a philosophy of using evidence-based practice, team work, and patient-centered approaches, we hope that our comprehensive care will empower our patients through rehabilitation.
To schedule a consult with one of BMC's speech language pathologists experts, call us at 617.638.8124.
Telehealth Visits
At the Voice and Swallowing Center, we recognize that the pandemic has been, and continues to be, challenging for so many of our patients. But we want you to know that we're still here for you.
We're now offering virtual health visits for voice and swallowing therapy through your phone, tablet, or computer. While you stay in the comfort of your own home, we can provide you with:
Assistance with breathing issues
Troubleshooting for issues with your tracheo-esophageal prosthesis (TEP, aka voice prosthesis)
Assistance with diet modifications
Check ins on swallowing exercises
Real-time exercises for voice issues, globus syndrome, and swallowing
To schedule an appointment, call 617.638.8124. You can also find out more about telehealth at BMC here.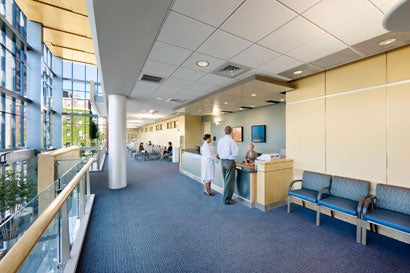 Address
830 Harrison Avenue
Boston, MA 02118
Moakley Building
Ground Floor
Hours
Monday-Friday - 7:30 AM - 5:00 PM