Boston Medical Center's Voice and Swallowing department houses a team of experts, including voice therapists, laryngologists, and speech-language pathologists and offers a wide array of diagnostic and treatment options for people with vocal or swallowing disorders.
"Dr. Grillone is one of the kindest most competent physicians I've ever seen. Highly professional and thoughtful in addition to solving a problem I've had for a while."
~ John A.
Voice problems such as the voice being tired or strained after prolonged usage can affect both professional and personal life. Voice problems often originate in the lungs, throat, larynx, and mouth and can be caused by a variety of conditions, including acute laryngitis; acid reflux; or polyps, cysts, or nodules on the vocal folds. Thankfully, the vast majority of voice problems are caused by non-life-threatening disorders and are easily treatable.
To schedule a consult with one of BMC's voice and swallowing experts, call us at 617.638.8124.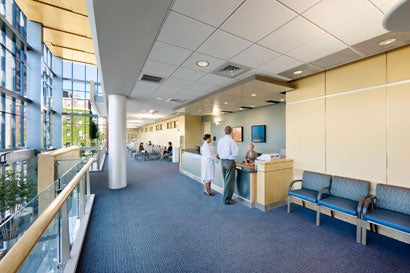 Address
830 Harrison Avenue
Boston, MA 02118
Moakley Building
Ground Floor
Hours
Monday-Friday - 7:30 AM - 5:00 PM