Information for Non-English Speakers
Resources in Languages Other Than English
BMC and the City of Boston have information on COVID-19 in many languages. Learn more below.
Help Prevent COVID-19 with Social Distancing Poster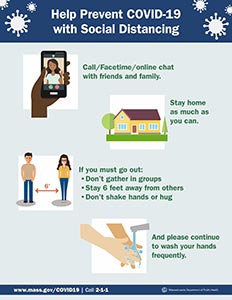 Download to learn more about how to prevent COVID-19:
Massachusetts Community Resource Directory
We know that you may have challenges during this time, which can impact your health. We have made COVID-19 Resource Guides with information to help with food, childcare, transportation, housing, etc.
City of Boston Text Messages
The City of Boston sends text message updates about COVID-19 in a number of languages. To sign up, send a text message to 99-411 with the below word for your language. Please only use plain characters, with no accent marks.
For English messages: BOSCOVID
For Español | Spanish messages: BOSEspanol
For Français | French messages: BOSFrancais
For Kreyòl ayisyen | Haitian Creole messages: BOSKreyol
For kriolu | Cape Verdean messages: BOSkriolu
For Português | Portuguese messages: BOSPortugues
City of Boston Web Pages
The City of Boston has COVID-19 web pages in 10 languages, plus English. For COVID-19 updates on the Boston.Gov website, please visit:
COVID-19 Fact Sheets
Free COVID-19 fact sheets in 35+ languages have been created by the COVID-19 Health Literacy Project in collaboration with Harvard Health Publishing. New languages are being added.
They can be found here: COVID-19 Fact Sheets
Resources for Deaf and Hard-of-Hearing Patients
Coronavirus Visual Tool
This tool will help you communicate better during visits to your doctor. You can use it to help:
Tell others how you want to communicate
Tell your doctor your symptoms, how bad they are, and how long you've had them
Ask questions about your care
Learn where to get information about coronavirus

and COVID-19
Download this tool below and print it or use it on your phone or tablet.
Get more information at: