Podiatrists at Boston Medical Center manage all foot disorders with expertise in preventing amputation, treating diabetic ulcers, wound infections, and performing reconstructive surgery. Other commonly treated conditions include high-risk diabetic foot care, arthritis, bunions, hammertoes, heel pain, arch pain (plantar fasciitis), neuromas, ankle sprains, Achilles tendon injuries, sports and work-related injuries (fracture/dislocations), and general management of nail and skin disorders.
Many patients treated by a podiatrist at BMC have conditions like poor circulation from peripheral arterial disease/peripheral vascular disease (PAD/PVD), nerve pain (neuropathy), diabetes, and kidney disease. To provide the best care possible, podiatrists collaborate with physicians in vascular surgery, infectious diseases, endocrinology, rehabilitation, physical therapy, and pain management. Orders for and instruction about appropriate use of custom molded shoes, orthotics, and braces are also provided.
Do You Suffer From Disabling Foot Pain? We Can Help.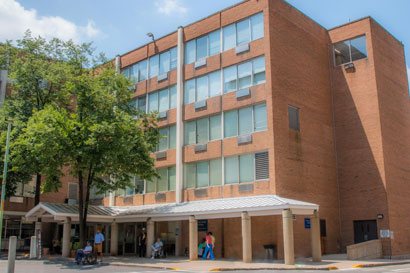 Hours
Monday-Friday - 8:00 AM - 4:30 PM