The Department of Rheumatology provides a full range of services - including joint injections, musculoskeletal ultrasound, and infusion therapies – for arthritis and systemic rheumatic autoimmune diseases, including scleroderma, lupus, inflammatory arthritis, spondyloarthritis, osteoarthritis, and gout. For all conditions, our rheumatologists work closely with providers in other departments to ensure you receive the best care possible, for all aspects of your health.
Our department includes specific programs for several conditions, including the largest scleroderma program in New England and a lupus program that offers multidisciplinary care in conjunction with a variety of specialists.
Our rheumatologists are actively engaged in research and have led development of national treatment guidelines in osteoarthritis, gout, and spondyloarthritis. We provide many opportunities for patients to participate in clinical trials.
Conditions We Treat
Patient Resources
The American College of Rheumatology provides a wide range of tips, support, and other information for patients with arthritis and systemic rheumatic autoimmune diseases and their families. Learn more below.
For Tips & Resources: Living with a rheumatic disease can come with challenges. But having the right knowledge and support can help. These resources for both patients and caregivers will get you started with the information you need.
Helpful Links: More than 80 resources for patients and caregivers are available on this site from SimpleTasks, a campaign dedicated to raised awareness of the impact of rheumatic disease.
Support Sites: Learn from arthritis experts and hear about the latest in rheumatic disease policy and news on the Arthritis Foundation website and also the SimpleTask blog.
Research
Our rheumatology department members have research expertise in many areas of rheumatic diseases. Our faculty are internationally recognized for contributions to research and have been at the forefront of developing new approaches to the study and treatment of disorders such as scleroderma, osteoarthritis, lupus, vasculitis, spondyloarthritis and gout.
Read more about rheumatology research at BMC.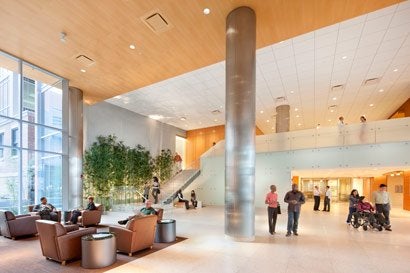 Address
725 Albany Street
Boston, MA 02118
Shapiro Center
6th Floor, Suite 6B
Hours
Monday-Friday 8:00 AM - 5:00 PM