A Multidisciplinary Approach for BMC's Head and Neck Cancer Program
---
Tumors and cancers of the head and neck impact patients in many ways that other cancers do not. Because they can alter how patients look, speak, breath, and swallow, head and neck cancers are some of the most difficult to effectively manage. In addition to trying to cure patients, physicians must work to maximize functional outcomes and quality of life.
To do so, BMC's Head and Neck Cancer Program uses a multidisciplinary approach, leveraging the expertise of subspecialists to optimize and balance survival and functional outcomes. One example of this is the stereotactic radiosurgery program. Stereotactic radiosurgery (SRS), also known as stereotactic body radiotherapy (SBRT), is a relatively new form of radiotherapy that can be delivered with extreme precision, thereby minimizing side effects to surrounding tissues and critical structures. SRS was first used to treat brain tumors and has more recently been adapted for use in head and neck cancer.
"We use SRS as another tool to treat tumors of the head and neck which are in particularly hard-to-reach places, where surgery would result in unacceptable morbidity, or when patients have already received standard radiotherapy treatment," says Daniel Faden, MD, a head and neck surgical oncologist and member of the SRS team. "Because the radiation is delivered with higher doses than standard radiation therapy, it's important that we make sure to target only the tumor, and minimize the dose to the critical normal tissues."
A multidisciplinary team consisting of a head and neck specialized radiation oncologist, Faden, and a head and neck specialized radiologist collaborate to determine the best treatment plan. Each specialist brings their own expertise. The precision that is used during SRS allows the team to treat tumors with higher doses per treatment. Therefore, instead of patients having to come in for 30-35 treatment sessions, patients treated with SRS will generally only have to come in for one to five treatment sessions.
"By employing this approach, we have had excellent outcomes with very challenging cases," noted Minh Tam Truong, MD, chief of Radiation Oncology. "Because of the highly focused nature of SRS, patients tend to tolerate treatment very well."
Boston Medical Center has two specialized technologies to delivery stereotactic treatment. The Cyberknife Radiosurgery System, which is used to target tumors in locations difficult to reach by surgery, has been in operation at BMC since 2007. Providers at BMC treat a wide range of cancers using Cyberknife, particularly in the skull base, brain, head, and neck. BMC's access to these technologies, as well as clinical trials related to SBRT, has allowed the team to develop highly specialized clinical expertise.
The program's multidisciplinary approach also extends beyond the stereotactic program.
"From the first time a patient walks in the door, we strive to provide the absolute best care possible, and this means coordinating and collaborating across disciplines" notes Heather Edwards, MD, chief of head and neck surgical oncology.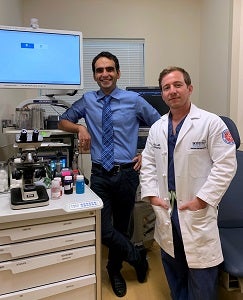 For example, up to 20 percent of fine needle aspiration (FNA) biopsies, the most common approach for diagnosing a head and neck cancer, do not provide enough information, which means the procedure must be repeated. This is inconvenient for patients and increases the time from presentation to treatment. To improve this process, Faden and Osman Yilmaz, MD, collaborated to create a head and neck cancer ultrasound guided-fine need aspiration clinic. In this clinic Yilmaz, a pathologist, is present in the room with his microscope while Faden performs the image guided biopsy, to evaluate the specimen in real time. This has resulted in a diagnostic rate of near 100 percent. This multidisciplinary approach decreases the time it takes to make the correct diagnosis.
"Because the pathologist can tell us in real time if they have enough cells for a diagnosis, we have seen the number of FNAs that result in inconclusive results fall to nearly zero. This is another way that a team-based approach improves outcomes, communication, and convenience for patients with complex needs during and following treatment" says Faden.
Top photo: Head and Neck Stereotactic Radiosurgery Team. From right to left: Daniel Faden, MD, Osamu Sakai, MD PhD, Minh-Tam Troung MD, Mike Dyer, MD and Sean Keohan
Bottom photo: Head and Neck Ultrasound Guided FNA Clinic. From right to left: Daniel Faden MD, Osman Yilmaz, MD