Patients with blood disorders receive consultation and treatment for a broad range of benign conditions, such as hemoglobinopathies (sickle cell anemia and thalassemia), hemochromatosis, bleeding and thrombotic disorders (von Willebrand's disease and hemophilia), hypercoagulable states, myeloproliferative disorders, myelodysplasia and anemia, and malignancies such as leukemia, lymphoma and myeloma.
The team works closely with the blood bank and has developed innovative techniques for harvesting, storing, and re-infusing blood and its components, most notably for autologous peripheral blood stem cell infusion. Apheresis is also available for treatment of a variety of disorders including sickle cell disease, Waldenstrom's macroglobulinemia, and cryoglobulinemia.
The Infusion Suite is housed in the Center and provides patients with the utmost privacy, comfort, and convenience. The Suite includes private rooms with beds and bays with large reclining chairs for patients and comfortable seating for those who accompany them. Patient Navigators (experts trained to help patients overcome barriers to care), social workers, and dieticians are also located in the Infusion Suite and are available to help patients with any needs that arise during their visit. A specialty pharmacy is conveniently located on the floor, allowing patients to fill many of their medications without leaving the area.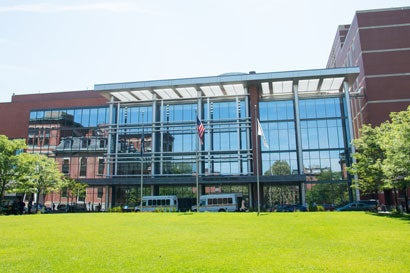 Address
830 Harrison Avenue
Boston, MA 02118
Moakley Building, 3rd Floor
Hours
Monday-Friday - 7:30 AM - 5:00 PM