Infectious diseases are caused by organisms (like bacteria, fungi, parasites, and viruses). While many organisms live in and on our bodies are harmless, others can cause disease. Humans catch these diseases either from another person who has it already, insect or animal bites, or exposure to the disease in the environment. When a person has an infectious disease, it is important he or she is cared for by a physician specialist who can help manage or cure the disease.
Boston Medical Center is home to infectious disease pediatric specialists who work with patients with all kinds of diagnoses and provide management of at-risk children and families with HIV infection. Acquired and congenital conditions they treat include:
Chronic infections
Recurrent infections
Diagnostic puzzles
Unusual bacterial, fungal or viral infections
Lyme disease
Chronic, recurrent or unexplained fevers
HIV
Pneumonia
Recurrent skin and soft tissue infections
Hepatitis B and C diagnosis and treatment
Congenital Infections such as Herpes Simplex, Toxoplasmosis,
Cytomegalovirus
In addition, BMC has a number of specialty programs related to infectious diseases.
The Pediatric AIDS Program works closely with the departments of Obstetrics and Adult Clinical AIDS to provide access to the most pioneering therapies and preventative strategies for good general maternal-child healthcare. We are part of a nationwide network of clinical care sites and NIH funded research sites ensuring that the pediatric HIV care at Boston Medical Center is state of the art. The program includes the Pediatric Immunodeficiency Clinic and SPARK Center
Curriculum for HIV Infected Youth
The Travel and International Health Clinic provides a family-oriented program to reduce the incidence of travel related illness such as:
Travel-specific immunizations
Information about prevention of malaria and other insect-borne diseases
Information about prevention and treatment of traveler's diarrhea
Education about prevention of other travel-related conditions
Hand-outs for patients to take with them outlining preventive measures they can carry out during their travels
Evaluation of travelers who develop illness during their travels
Refugee Health Assessment Program sees refugees who have recently arrived in the United States. These patients that are referred from specific resettlement agencies; thus, appointments for these patients are only made via the agencies.
Hepatitis Management and Treatment: As part of a special program within the Infectious Diseases Clinic, infants and children with Hepatitis B and C are followed. Recent NICHD Funding has allowed the clinical program to focus on the risk factors for transmission of HCV from mother to infant. There is an active program to identify, evaluate, and manage congenital Hepatitis C, and have access to state of the art diagnostics and therapeutics.
The Vaccine Center not only investigates new vaccines, but also is on the cutting edge of information regarding new indications. Advice on appropriate immunizations for a variety of populations such as sickle cell disease, immunodeficiency, splenectomized patients is also available.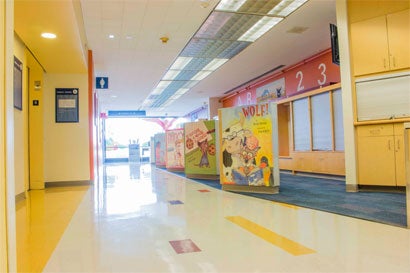 Address
850 Harrison Ave
Boston, MA 02118
Yawkey Ambulatory Care Center
6th Floor
Hours
Monday, Wednesday Friday: 8:00 AM - 5:30PM
Tuesday, Thursday 8:00 AM - 8:00 PM